Latest News...
Brad Bannon and the rest of the team at BannonCR congratulate our clients who bucked the national GOP tide. We are proud to have won all six of the campaigns that we worked on in the Fall of 2010.

Read More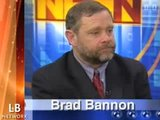 Brunch With Brad...07/01/2012
Brad Bannon, a nationally recognized political strategist and President of Bannon Communications Research, discusses the latest news on Brunch With Brad. Check out the latest edition!!

Listen Here

Get Your Prospectus:

Learn More



Win with Bannon Communications Research
At Bannon Communications Research, your image and your issue are our business. Democratic candidates, labor unions and progressive issue groups choose BCR, as they have for 25 years, because our track record proves we help them win. At Bannon Commuications Research, you get our personal commitment, an uncommon level of research expertise and a proven record of effective strategic thinking.

Read More